Exclusively Inverness Magazine - Summer 2009

Letter from the Editor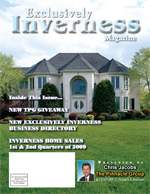 elcome to this summer issue of Exclusively Inverness magazine.

We are introducing two new features that we believe will make Exclusively Inverness magazine even more interesting for our readers.

The first is our Exclusively Inverness Business Directory. I know that given the choice, many residents would like to use services provided by other people within the community. The new Exclusively Inverness Business Directory is designed to highlight businesses that are located within Inverness or businesses whose owner resides in Inverness. Iím sure that over time this directory will grow to become a great resource for our readers.

The second is a quarterly giveaway we are conducting on our web site. Each quarter we will feature a new and different prize that can be won by simply visiting our web site, finding our logo imbedded in one of our home photos and completing an online entry form. To learn more about it see the advertisement within this magazine.

Thanks again for spending some time with us and enjoy your summer!

Sincerely,



Chris Jacobs
Broker Associate


Chris Jacobs
Broker Associate
Chris Jacobs & Associates
Century 21 Affiliated
Direct: 847-401-4859
Chris@ChrisJacobsHomes.com

INSIDE THIS ISSUE...