Exclusively Inverness Magazine - Spring 2010

Letter From The Editor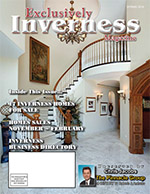 elcome to our spring issue of Exclusively Inverness magazine.

As the weather improves with every passing week, a renewed sense of optimism fills the air. Now we enter what is traditionally the busiest time of the year for home sales. Clear goals and decisive decision-making will be key to making things happen in 2010.

The one thing that continues to be blatantly obvious is the fact that having a true real estate professional with specific community knowledge as an advocate for you is the only smart move. While homes continue to sell at a snailís pace and inventories continue to rise, the days of hiring just any agent to put your home in the multiple listing service and having a successful sale are over.

Today I watch properties in Inverness sell for top dollar as well as rock bottom prices. Truthfully, I believe many of the agents representing these buyers and sellers do not have any idea which end of that spectrum their client is on. Inverness is a truly unique community that requires a thorough understanding and specific market knowledge.

In addition, the old days of simply using the multiple listing service to sell a house are also fading. Buyers are more educated and are doing more of their own legwork. A true real estate professional is always developing new ways to reach out and connect with those potential buyers and promote their clientís home in ways that far exceed any traditional means.

If you find yourself needing to enter this market as either a buyer or seller and are looking to learn more, feel free to call me at 847-401-4859. I am happy to be of service.

Sincerely,



Chris Jacobs
Broker Associate


Chris Jacobs
Broker Associate
Chris Jacobs & Associates
Century 21 Affiliated
Direct: 847-401-4859
Chris@ChrisJacobsHomes.com

INSIDE THIS ISSUE...