Exclusively Inverness Magazine - Fall 2010

Letter From The Editor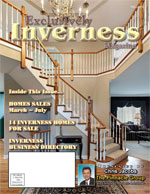 elcome to our fall issue of Exclusively Inverness magazine.

With home prices continuing to decline and inventories remaining at historically high levels, the days of hiring just any agent to put your home in the multiple listing service and having a successful sale are over. As this year progresses, the one thing that continues to be obvious is the fact that having a true real estate professional with specific community knowledge as an advocate for you is the only smart move.

Today's seller is struggling to compete with short-sales and foreclosed properties, even in the Inverness market. Understanding Inverness' closed sales, in addition to Inverness' active listings is key to determining current market values. We pride ourselves on having invested the time and effort necessary to acquire this specific market knowledge.

Also, a true real estate professional is always developing new ways to reach out and connect with those potential buyers and promote their client's home in ways that far exceed traditional means. Our team is always working on new and innovative ways of reaching out to prospective buyers.

If you find yourself needing to enter this market as either a buyer or seller and are looking to learn more, feel free to call me at 847-401-4859. I am always happy to be of service.

Sincerely,



Chris Jacobs
Broker Associate


Chris Jacobs
Broker Associate
Chris Jacobs & Associates
Century 21 Affiliated
Direct: 847-401-4859
Chris@ChrisJacobsHomes.com

INSIDE THIS ISSUE...