Exclusively Inverness Magazine - Fall 2012

Letter from the Realtor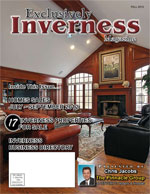 elcome to our fall issue of Exclusively Inverness magazine.

There have been several reports this year that claim the Chicagoland housing market has bottomed. Some have claimed that the bottom happened in the spring of this year.

So how does all this compare to my personal experience in today's market? I would say that the market seems to be stabilizing. However, housing prices are historically tied to wages and our local economy is still struggling. The real estate market is not out of the woods yet, but a little good news in what has been a depressed real estate market is worth sharing.

All real estate is local, and Inverness is a unique community. Now that fall is upon us, clear goals and decisive decision making will be key to making things happen in this housing market. I understand that when it comes time to sell your home it can be a daunting task. Many decisions need to be made, each one potentially affecting the market time and sales price of your property.

We pride ourselves on having the most comprehensive marketing program and highest level of customer service available. We spend countless hours and more money than any other real estate group promoting Inverness real estate and more specifically our clients' homes to potential buyers. Taking the time to understand the Inverness real estate market is something we pride ourselves on. This approach has resulted in our group selling more Inverness listings over the past 6 years that any other agent or team.

If I can be of service to you or someone you know, please don't hesitate to call. To contact me regarding any of your real estate needs call me at 847-401-4859 or email chris@InvernessForSale.com. I am always happy to be of service.

Sincerely,



Chris Jacobs
Broker Associate


Chris Jacobs
Broker Associate
Chris Jacobs & Associates
Century 21 Affiliated
Direct: 847-401-4859
Chris@ChrisJacobsHomes.com

INSIDE THIS ISSUE...