Exclusively Inverness Magazine - Winter 2013

Letter from the Realtor©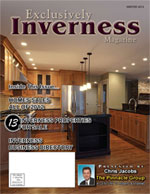 elcome to our winter issue of Exclusively Inverness magazine. Within this issue I have included an article giving my perspective on the Inverness real estate market and where I see it going. I hope you take a moment to read it and find it informative.

Especially now, when it comes time to sell your home, knowing what the right move is, can be difficult. Many decisions need to be made, each one potentially affecting the market time and sales price of your property.

Marketing your home to qualified buyers begins with comprehensive market knowledge and a high-octane marketing plan. Serious buyers are constantly looking for information that will ultimately lead them to their dream home. Making sure your property stands out in the crowd is of utmost importance and your real estate agentís responsibility. These are qualities we believe are essential and we are uncompromising.

With Inverness being such a unique community, a one size fits all approach to selling real estate just doesnít work. We have spent countless hours and more money than any other real estate group promoting Inverness real estate, and more specifically our clientsí homes to potential buyers. Taking the time to understand the Inverness real estate market is something we pride ourselves on. This approach has resulted in our group selling more Inverness listings over the past 7 years, including 2012, than any other real estate agent or team.

If I can be of service to you or someone you know, please donít hesitate to call. To contact me regarding any of your real estate needs call 847-401-4859. I am always happy to be of service.

Sincerely,



Chris Jacobs
Broker Associate


Chris Jacobs
Broker Associate
Chris Jacobs & Associates
Century 21 Affiliated
Direct: 847-401-4859
Chris@ChrisJacobsHomes.com

INSIDE THIS ISSUE...