Exclusively Inverness Magazine - Spring 2016

Letter from the Realtor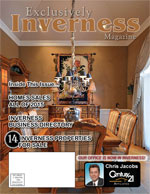 elcome to our latest issue of Exclusively Inverness magazine. 2016 looks to be an exciting time for me and my group. At the beginning of this year our office officially relocated to Inverness! We are now in the Williamsburg Village business park at Roselle and Euclid. Century 21 Affiliated is the only nationally recognized real estate company located within Inverness. We see this as one more way to create local interest in our client's properties and serve the community better.

With Inverness being such a unique community, we felt it was important to be right here to continue to provide the very best level of quality service. We have spent countless hours and a substaintial amount of financial recources to promote Inverness real estate, and more specifically our clients' homes, to potential buyers. Investing the time to understand the Inverness real estate market is something we have always prided ourselves on. These efforts have resulted in my group selling more Inverness listings over the past 10 years than any other real estate agent or team. So let us put our experience and resources to work for you.

If I can be of service to you or someone you know, please don't hesitate to call. To contact me regarding any of your real estate needs call 847-401- 4859. I am always happy to be of service.

Sincerely,



Chris Jacobs
Broker Associate


Chris Jacobs
Broker Associate
The Pinnacle Group
CENTURY 21 Affiliated
Direct: 847-963-0400
Chris@C21TPG.com

INSIDE THIS ISSUE...