Exclusively Inverness Magazine - Summer 2016

Letter from the Realtor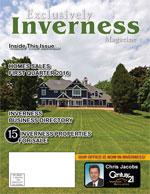 elcome to our latest issue of Exclusively Inverness magazine. We have settled into our new offices in Inverness and have been very busy with the business of selling homes! With Inverness being such a unique community, we feel it is important to be right here in Inverness to provide the very best service to the community. This year's volume of sales in Inverness year to date has trended slightly lower, compared to last year's numbers. The number of active properties has also grown somewhat over the same time period.

Our goal moving forward is to take advantage of the summer selling season for our clients. We have been testing new technologies and are always re-evaluating our ever expanding marketing program. Investing the time to understand the Inverness real estate market is something we have always prided ourselves on. Our mission is to provide our clients the maximum exposure for their properties. We have spent countless hours and a substaintial amount of financial recources to promote Inverness real estate, and more specifically our clients' homes, to potential buyers. These efforts have resulted in my group selling more Inverness listings over the past 10 years than any other real estate agent or team. So let us put our experience and resources to work for you.

If I can be of service to you or someone you know, don't hesitate to call 847-401- 4859. I am always happy to be of service.

Sincerely,



Chris Jacobs
Broker Associate


Chris Jacobs
Broker Associate
The Pinnacle Group
CENTURY 21 Affiliated
Direct: 847-963-0400
Chris@C21TPG.com

INSIDE THIS ISSUE...