Exclusively Inverness Magazine - Fall 2016

Letter from the Realtor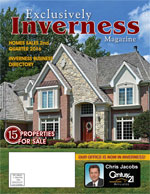 all is here and summer went by too quickly. As people's thoughts turn to the holidays, now is a great time to start formulating any potential moving plans. Forward thinking prior to jumping into the real estate market tends to pay dividends and there is no better time than now.

Our goal is to use our experience and expertise to help our clients make the most of the market. Our mission is to provide our clients solid professional advise and maximum exposure for their properties. We continue to spend countless hours and a substantial amount of financial resources to promote our clients' homes to potential buyers. And we continue get results. My team has sold more Inverness listings over the past 10 years than any other real estate agent or team. So let us put our experience and resources to work for you.

If I can be of service to you or someone you know, don't hesitate to call 847-401- 4859. I am always happy to be of service.

Sincerely,



Chris Jacobs
Broker Associate


Chris Jacobs
Broker Associate
The Pinnacle Group
CENTURY 21 Affiliated
Direct: 847-963-0400
Chris@C21TPG.com

INSIDE THIS ISSUE...